Christina Samaha, M.S., CCC-SLP
Speech-Language & Feeding Therapy
Christina holds a Bachelor of Arts degree in early childhood education from Eastern Connecticut State University and a Master of Science degree in Speech-Language Pathology from New York Medical College where she gained extensive training in the field of medical speech-language pathology and feeding. She is nationally certified by the American Speech-Language Hearing Association (ASHA) and holds her Certificate of Clinical Competence. Christina is a New York and Connecticut licensed Speech-Language Pathologist. She is also a trained therapist in The Sequential Oral Sensory (S.O.S) Approach to feeding, a trans-disciplinary program for assessing and treating children with feeding difficulties and weight/growth problems from birth to 18 years. It integrates posture, sensory, motor, behavioral/learning, medical and nutritional factors to comprehensively evaluate and manage children with feeding/growth problems.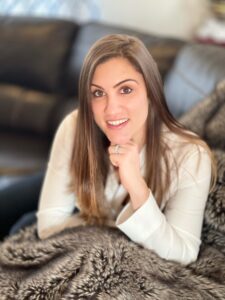 Christina's past experiences have included working with medically fragile children in a subacute nursing facility where she had the opportunity to pursue her passion for feeding by working with post-NICU infants transitioning from tube to oral feedings as well as a range of children with feeding difficulties. Christina then transitioned to private practice where she utilized her clinical skills working with infants, toddlers, and school-age children. Christina has clinical expertise in language delays, articulation, play, feeding and swallowing disorders, as well as social-language, fluency, voice, phonology, reading and written language and augmentative communication systems. She has provided services to children with varied diagnosis including Down's syndrome, failure to thrive, stroke, cerebral palsy, learning disability, autism, seizure disorder, hypotonia and developmental delay.
Christina strives to make each therapy session as fun and motivating as possible by incorporating the child's individual communication and/or feeding goals and interests. Collaboration is key to a child's success. Christina works closely with caregivers, other professionals, and teachers to facilitate generalization of skills and maximize the child's progress.
Seeking advice on your child's speech language and feeding development?